How stadiums are attempting to rival the television experience using technology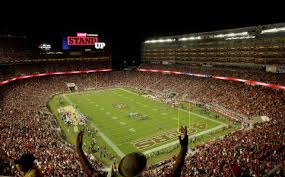 Television is quite spectacular
It wasn't very long ago that the ultimate sports experience included having a seat in a stadium or arena.   The experience of actually being a part of the live action and sharing that moment with family, friends or other die-hard fans seemed irreplaceable.  However, today, it seems like we are a far cry from those times as the television experience has become quite spectacular.  The pre-post and post-game coverage, player interviews and half-time analysis offer insights into the game that one cannot currently get at the stadium or arena.  Not to mention the ability to watch multiple games simultaneously if you have enough money to shell out for NFL Sunday Ticket.  I had the privilege of going to NBA All-Star last month and I had a phenomenal time.  However, when I reflected on my experience, what made NBA All-Star so special had little to do with my time actually watching the events.  I had a great time because of the sports professionals I met and the opportunity I had to spend time with my older brother who lives far away.  To be honest, I probably would have had more fun just watching the events at home.  For example, while I was at the arena, I couldn't help but wonder what Kenny Smith and Charles Barkley were laughing about during the Dunk Contest or what jokes Kevin Hart was telling during the Celebrity Game.  The fact that I could actually see them but not hear what they were saying just added insult to injury.
Statistics show that many other fans share these sentiments.  In 1998, an ESPN poll showed that 54% of fans preferred to attend a game rather than watch it on TV.  In a repeat of the same poll in 2011, the survey showed that only 29% of fans preferred to attend the game.  It's debatable, but based on experience and these numbers, through television is the most enjoyable way to watch a game.  Unless you're sitting courtside or have an all-access pass.  However for the average fan, that's not reality.
Don't count the stadium out just yet
Even though television is winning now, could the stadium experience make a comeback?  I'm not sure.  Regardless, it's certainly trying.  Smart stadiums and arenas are popping up all over the country.  The best way I can define a smart stadium is a venue that uses the latest data and technology to enhance the fan experience. These types of venues have several types of offerings including lounges to watch other games, mobile POS devices to order food from your seat and phone apps that allow you to locate an open parking space.  These are all great features but aren't necessarily improvements to the home experience.  You can do all these things at home for "free" or at lower cost.  However, when I heard about a few of the features below, I thought, maybe this could actually compete with television?
Digital screens
Venues are installing personal television screens for fans so they can view the game on broadcast at their seat.  I've only seen them for premium seats as it is extremely expensive to install tens of thousands of screens to accommodate every seat.  However, I imagine that sport venues and franchises will explore equipping more seats with screens as the fight for fan attendance continues.  Of course, they would have to charge a higher, but potentially reasonable price.
Controllable replays
The Brooklyn Nets and San Francisco 49ers have apps that allow spectators to watch replays from multiple camera angles.  This is certainly an improvement from the home viewing experience where you have to wait for a commercial or timeout to see a replay.  If neither of those come in a timely fashion, you may be out of luck.  Not to mention it may not even be the replay that you wanted to see.
Stadium promotions
Some teams are implementing beacons to send exclusive, stadium-only promotions to fans on their mobile app.  The stadia of the San Francisco Giants and Houston Dynamo have this technology.  Of course, it depends on the value of the promotion to determine whether it's a legitimate incentive to come to the stadium.  Either way, these venues are on the right track.
Google Glass view
The Sacramento Kings offer upper-deck fans close-up views of game action in Sleep Train Arena.  They equip their courtside staff (e.g., mascots, cheerleaders, reporters) with Google Glass and allow fans to stream these views on their mobile devices.  I'd have to actually use it to make a fair assessment.  But on the surface, it sounds pretty cool.
Wi-Fi
Levi's Stadium, home of the San Francisco 49ers', offers a Wi-Fi port for every 100 seats and provides a very strong and fast connection.  Although this is a service one can surely receive at home, offering a Wi-Fi connection makes all the previous features easier to deliver.  No matter how many game attractions an organization puts in front of a fan's face, the fan will still spend much of his time texting or on social media.  Sparing the fan additional data usage by providing a Wi-Fi connecting is incentive for the fan not to leave before the fourth quarter.  The only thing more important than this may be an outlet at their seat.  I'm sure stadium operators are working on that.
How can I hear Kevin Hart and Kenny Smith?
I'm really not sure whether the stadium experience will ever catch up to the television.  But honestly, I don't think that should be its goal.  Instead, stadium operators should work to include the television experience into the game experience as much as possible.  For example, is there a way for me to hear Kevin Hart and Kenny Smith in the arena?  There should not be a trade-off.  I understand there are some rights issues to iron out before something like this can happen, but you get the picture.  From the looks of it, stadium operators are headed down the inclusion path with the advancements we just discussed.  When these type of features become the industry standard, I think stadiums and arenas will be much more comparable.  The entire venue experience will be in a better place.
List of consulted articles and related reading