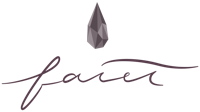 Luxury is no longer what it used to be. It is mass-produced and mass-distributed. Buying goods from a luxury brand today is about an image and the illusion of quality regardless of reality. The luxury industry is increasingly driven to shave costs while pretending that quality remains as high as ever. Cost cutting is often done by engaging in unethical practices such as child labor, unfair wage payment, bad working conditions, etc. Standardized luxury products do not incorporate the art and culture from around a world and these art forms are dying.
Facet's objective is to present the conscious consumers with timeless designs of responsibly made products while connecting cultures and preserving the world's collective history.
Facet offers an array of women's accessories and home décor items which are responsibly co-created and sourced by two women entrepreneurs who work with artisans from around the world. They plan to sell their products through multiple channels – online, trunk shows and through partnerships with boutique stores.
Target Market:
The global luxury goods market was expected to exceed roughly $ 220 billion by 2014. The 4 biggest markets are the United States, Japan, Italy and China, collectively accounting for almost 50% of the total luxury goods sales. The growth rate in these four major markets averages at 5% per year.
Consumer Market: The Facet team has organized several trunk shows to determine their target market. With much research, they have decided to target women from 30-50 years of age. The U.S. accounts for 30% of the spending in the global luxury goods market and more than 50% of those spenders are women. Data collected from Beta tests validates this hypothesis: 95% of their items were purchased by women in this age group who did not consider price to be an issue and had a special appreciation for the quality and uniqueness of our products.
Supplier Market: Facet will connect the artisans and global consumers by educating artisans on the value chain and their end customer. It plans to weave the artisan's cultural story into the merchandising by using different mediums such as story cards and video vignettes. It plans to collaborate with boutiques to merchandise our products and advance our mission.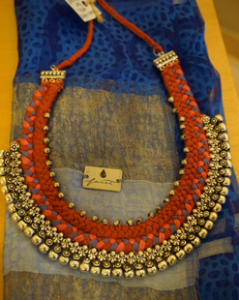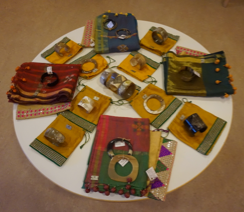 Facet products from India and Uganda
Business Model:
Currently Facet's main source of revenue is direct sales at trunk shows. They are launching our website by the end of the month and are pursuing leads for select boutiques in Martha's Vineyard, Cape Cod, Boston and Key West, FL to carry their products. Their main costs include procuring inventory and packaging. While Facet's good are sold at high gross margins, it factors in a fair (at or above market value) pay for the artisans they work with. As they scale, the initial costs associated with acquiring suppliers, labor, as well as other overhead costs will increase but bear a potential to decrease in the long term as they establish an efficient distribution network.
Going forward, should Facet focus more on Online sales or on the retail stores/trunk shows?
In my opinion, Facet should focus on online sales are the primary source of sales for the following reasons:
Trunk shows are expensive to host since it requires booking space, catering, marketing, etc.
Selling in boutiques takes away from margins as the boutiques will keep a % of the sale price.
According to a recent McKinsey study, even though online transactions make up only a small percent of luxury goods shopping, more than 50% of the buying decisions are influenced by what consumers see online.
Sixty percent of U.S. luxury consumers say they would be more likely to buy at an online shop if it offered luxury brands that no one else sold online. This is the most important point for Facet since it sources custom designs from around the world that cannot be bought at local stores or department stores in the US.
Small leather goods, handbags, scarves, jewelry, etc are the most frequently purchased whereas items that require trying on like clothes, footwear, sunglasses are less likely to be bought online. Facet focuses on accessories which falls in the first category.
More than 50% of luxury goods shoppers have bought from online platforms of Nordstrom, Saks, etc.
E-retailers such as Gilt, Rue Lala, Belle & Clive, MyHabit are doing exceptionally well at selling high end products online.
One risk to consider is that most online shoppers expressed that their biggest concern with online shopping was delivery time. While a consumer can go to a store and buy an LV handbag, he/she has to wait for a Facet product for a few days. Given that Facet has a complex sourcing strategy, meeting this requirement will be a challenge.
Also, while they should focus on online sales, Facet should use Trunk Shows, Boutiques and Pop up shops as a source of marketing. Facet should also market using –
Social media
Newsletters
Traditional – magazines / print
Suggestions / Recommendations from clients
The online presence allows conscious consumers from around the world to enjoy Facet's products.
I would love to hear what the rest of the class thinks about this concept.