Major League Baseball hit a grand slam with the launching of MLB Advanced Media and its industry leading MLB.tv streaming service.
In 2000, after concerns arose about the costs of operating individual team websites and the future potential of streaming baseball games, the owners of all 30 Major League Baseball (MLB) teams invested $1 million each in the formation of Major League Baseball Advanced Media (MLBAM). MLBAM launched and operated MLB.com and the websites for all 30 individual clubs. Investment reached $75 million in three years, and the organization quickly turned cash flow positive and began generating returns for the collective owners. In 2014, Forbes estimated each club owner received a $7-8 million dividend.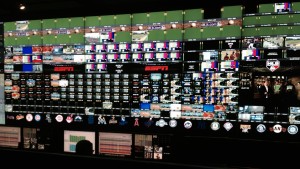 MLBAM's success led to an expansion in services, and by 2016, the organization offered: Business & Content Strategy, UX & Product Design, Social Media & Marketing, Ticketing, Sponsorship & Advertising, Ecommerce & Paid Content, Multimedia & Live Streaming, Mobile Web & Applications, and Statistics & Data Applications. The website summarized the company as follows: "MLBAM (MLB Advanced Media) is a full service solutions provider delivering world-class digital experiences for over ten years and distributing content through all forms of interactive media. Our digital leadership and capabilities are a direct result of an appreciation for designing dynamic functionality for web, mobile applications, and connected devices while integrating live and on-demand multimedia, providing valuable products for millions of fans around the globe."
MLB At Bat
The MLB At Bat mobile application delivers live scores, live audio play-by-play, game highlights, and "pitch-by-pitch live data." MLBAM releases an updated app at the beginning of each season. The At Bat app is free to download, but only offers minimal functionality. For $2.99/month or $19.99/season, users gain access to the app's entire functionality. Despite the app's success, MLBAM is best known for its live game streaming service MLB.tv.
From HBS Digital Initiative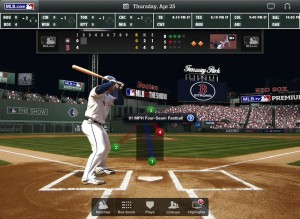 MLB.tv 
Numerous outlets, including Quartz and Business Insider, have called MLBAM's live game streaming technology "the best in the business." MLB.tv offers three packages: full season, full league for $109.99, monthly full league for $24.99/month, and full season, single team for $84.99. Features include: DVR capabilities, split screens to watch multiple games simultaneously, in-game player statistics and much more.
To drive its performance, MLBAM installed fiber optic network infrastructure at each ballpark, and opened multiple data centers throughout the country. This infrastructure not only allowed MLBAM to deliver a superior product in MLB.tv, but also enabled the company to sign-on external clients. MLBAM now runs the streaming services for WWE, ESPN, The National Hockey League (NHL), Blaze TV, and is in the process of developing a streaming service for Sony.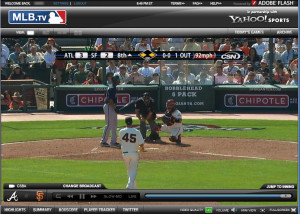 Conclusion
MLBAM's rising stature in the streaming media market has attracted great attention. Many pundits comment on the surprise that an old (some would say stodgy) professional sports league was able to develop a world class technology company. More importantly than its unique parent company, MLBAM has demonstrated an ability to radically transform the traditional TV market. Business Insider estimates that over 200 million streaming media devices were shipped in 2015 and predicts a CAGR of 10% from 2016-2021.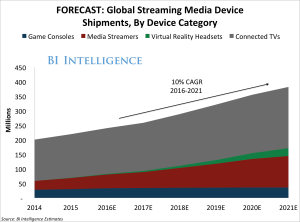 As more and more households supplement their cable packages with streaming programs, or "cut the cord" entirely, MLBAM has positioned itself to be a major player in the market. When it announced the NHL deal six months ago, MLBAM also confirmed its plans to spin-out the tech operations of the company at a $3 billion valuation. If the company's success continues along a similar trajectory, the 30 owners and their $75 million investment will clearly have hit a grand slam (pun intended).
http://www.forbes.com/sites/maurybrown/2014/07/07/the-biggest-media-company-youve-never-heard-of/#5b77d55e1dd4
http://recode.net/2015/08/04/pro-baseballs-streaming-video-unit-gets-ready-for-a-3-billion-spinoff-by-adding-pro-hockey/
http://sports.yahoo.com/blogs/nhl-puck-daddy/seven-crucial-improvements-in-mlb-advanced-media-s-nhl-digital-overhaul-154713433.html
http://www.latimes.com/entertainment/envelope/cotown/la-et-ct-advanced-media-20150930-story.html
http://qz.com/209092/the-future-of-major-league-baseball-is-not-just-about-baseball/
http://mlb.mlb.com/mlb/subscriptions/index.jsp?&affiliateId=MLBTVREDIRECT
http://www.businessinsider.com/the-streaming-media-device-report-market-forecasts-top-players-and-consumer-viewing-trends-that-will-shape-the-market-2016-2
http://recode.net/2015/08/04/pro-baseballs-streaming-video-unit-gets-ready-for-a-3-billion-spinoff-by-adding-pro-hockey/