Industry landscape of the online economy of Eating
It is fascinating to see how the online economy has disrupted the simple process of eating! Back in the day our hypothalamus informed us of our hunger, which drove our initial food craving. When we craved something we either cooked it ourselves or went to a well-known local eatery.
The predominant way we discovered new restaurants or chefs was purely word of mouth or through print/TV advertisements or the food column written by relatively inexperienced food critics.
Food exploration was very much local. Any positive international eating experience was usually a result of 'stumbling' upon a neighborhood gem or relying on your family and friends' prior experiences.
And then all of a sudden there was Food Network and celebrity chefs! And lo and behold we all became highly perceptive food critics and our palette became highly sophisticated and international. Then here was the organic revolution and we started to care where our food was coming from, who was cooking it and how would it be served.
With the onslaught of the on-demand economy, our time became so precious overnight that we are no longer ok with driving to the grocery store and wasting hours shopping, then prepping and finally cooking! Heck, sometimes we barely have time to cook so we need to be able to get a reasonably good chef to come in and cook for our dinner party.
With the onslaught of information and higher exposure to food, we now want on-demand the dish we like from our favorite spot delivered to the door within the hour if not faster.
If we are trying to lose weight, we prefer healthy, gourmet and individualized meals to be cooked and delivered to us.
Finally, we no longer rely on our hypothalamus to signal when we are hungry – we just scroll through endless reviews and Instagram accounts and our mouths begin to water as we see perfectly filtered images of gastronomical delights! Alas, if only we could just bite into the digital image and satisfy the craving.
The online revolution of our offline eating process has enabled millennials to become food snobs. Over the last few years, several online businesses have disrupted how we identify, engage and execute food.
According to FoodTechConnect.com, the U.S. food tech and media industry continued to grow in 2014 with a total of $2.4 billion of private capital invested into the ecosystem – 42% greater than 2013's $1.7 billion, and twice as much as 2012's influx of $1.2 billion. The total food tech market is speculated to be a $50 billion market growing at 16% year on year.
According to VC research firm Pitchbook, VCs invested $505 million in US-based food delivery startups such as Instacart and Blue Apron in 2014 (more than six times the amount they invested in 2013!)
In the last two years the competition has significantly stiffened in some of these verticals like food / grocery delivery and the abundance of virtual restaurants (centralized own kitchens with virtual store front and home delivery). Some try to differentiate based on their design choice and functionality where as others are simply copycats. We are starting to see consolidation in the space and I imagine this will continue to happen until we begin to see winners evolve in each segment.
In the tables below I showcase several online businesses broken down by the distinct subset of the eating process they are disrupting. *This list is not comprehensive, rather represents my view on the highest potential venture-backed Food Tech companies.  
The Eating-Out Process:
Restaurant/Food Information Search => Restaurant Reservations => Bespoke Dining Experience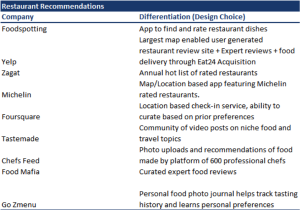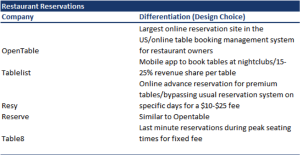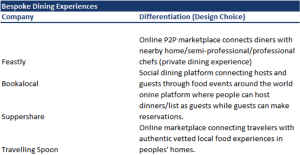 The Eating-In Process (Restaurants):
Restaurant Search (Physical or Virtual) => Order => Delivery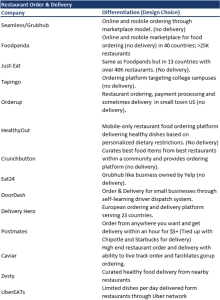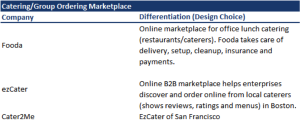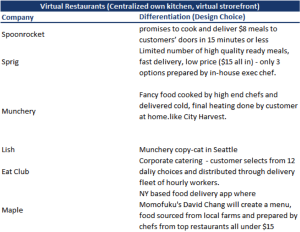 The Eating-In Process (Cook Yourself):
Identify recipes => buy groceries =>prep ingredients =>
The Eating-In Process (Outside Chef):
Search and identify private/professional chef => book chef