The online economy has spawned countless companies that operate fundamentally differently than companies of the past. This new world order requires a new form of office organization, and WeWork has stepped up to fill that need.
The Evolution of the Sharing Economy.
Broadly speaking, the online economy has had massive implications on the goods and services industry, bringing the ability to create, sell, distribute and consume these goods and services entirely online.  However, what is easily overlooked is that due to the nature of these online marketplaces, the online economy has also had a large impact on how people assemble into organizations and how actual work gets done. 
An early indication of this shift was unsurprisingly rooted in the offline world: the sharing economy.  Take physical goods that mostly sit idle and share the good across a large group of people who all need to use it, but at different times.  Use the online economy to organize the sharing of this good, increase the utilization of the good itself, and lower the cost to the end user of owning and acquiring this good.  Examples of this include car and bicycle-sharing (RelayRides), vacation home-renting (Airbnb) and clothes lending (Rent the Runway).
The next stage involved sharing services, which really meant re-organizing existing contract-based vocations and more efficiently connecting the service providers with customers interested in consuming those services.  Colloquially, this became known as the "on-demand" or "gig" economy.  Consumers liked this: efficiently connecting market participants meant less work the consumer had to do to find a contract worker to complete a task (TaskRabbit) or hail a cab (Uber).  Contractors liked this: the volume of potential customers increased vastly, without the contractor needing to invest heavily in marketing.  Contractors also didn't like this: it lowered the barriers to entry for other market participants, resulting in crowded demand-side offerings for low-skilled tasks.
In today's sharing economy iteration, the focus instead is on the highly-skilled tasks not commoditized by services-based sharing.  Instead, the focus here is on efficiently connecting knowledge experts with people anywhere in the world that value this expertise.  This type of outsourced knowledge work has existed for quite some time, but contractors typically had to be a part of a contracting firm that spent time and resources seeking opportunities for their contracted workers.  With the help of the online economy, however, more of these experts are able to work independently — instead opting to offer their services through expert platforms like Udemy or Upwork.
Here is a great visualization of this evolution: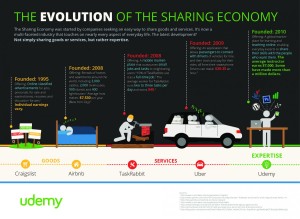 Changing the Nature of Workplaces.
Clearly the online economy has had a big impact on many different marketplaces.  But what about the people and organizations that make up these marketplaces?  As it turns out, companies find it prudent to leverage the online economy for the same reasons that individual consumers do: they need a task to be done, they don't necessarily have the talent to make it happen, so they look to another individual or organization outside of their company to complete the task.  Many of these tasks are technical in nature and can be completed with only a computer and an internet connection, making them feasible to be done remotely.
Organizations find it in their best interest to keep their essential staff to a minimum (in addition to their working capital), which has resulted in smaller and smaller teams forming.  As you might expect in Startup Land, these companies value efficiency and the sharing economy when it comes to their workplace environment as well: why sign an expensive, long-term lease when you don't know whether your company will be successful in the next year, six months, or even three months?  At the same time, these companies are realistic: if they want to attract and retain top talent, they need to be able to provide an enjoyable work environment that competes with the likes of large companies like Facebook and Google.  In addition, many people recognize that humans are inherently social beings, and even individual contract workers would prefer to be around others for 40 hours a week as opposed to by themselves at their apartment.
Enter WeWork.
WeWork was founded upon the principles of the sharing economy: take a large lease and break it up into multiple smaller leases, allowing for tenant flexibility with respect to how much space they need and how long they need the space for.  Create an office environment that contains couches, beer kegs, and neon signs, and then slap a price tag on it.  The company offers work space for as little as $45 a month or dedicated offices and desks starting at $450 a month. [1]
Since incorporation, WeWork has seen tremendous growth.  In five years, the company has raised $1 billion in capital, managed more than two million square feet of office space leases, and recently sought $750 million in debt — all at a valuation of $10 billion. [2]  There is clearly a large demand for this type of working environment: there are 29 locations worldwide, with plans to double that number by the end of 2016.  According to Fortune, "demand is so high that many WeWork locations book up within a few days of opening their doors; the office in New York's Meatpacking District has had people on its wait list for two years." [3]
In addition to a pleasant working environment, this type of work setup makes sense for many companies that want to focus only on the essentials of building their business.  Technology advancement has reduced the costs exponentially to get a company up and running in the last 10-20 years.  With the pace at which corporations can be created, does it really make sense for all of these companies to spend their time building out the more capital intensive "logistical" elements of their business like office space leasing, health care, maintenance services, internet service provision, and furniture purchasing?  For WeWork, the answer to this question is emphatic: NO.  Instead, WeWork centralizes all of this, and does so at a scale that makes it much more economically feasible than one individual company.  They often sign such large, long term leases that they are able to negotiate one year of free rent — something a startup would never have the leverage to do.
The WeWork founders will tell you, however, that the company's secret sauce is mostly their focus on the human principles that aren't present in the online economy.  Says co-founder Miguel McKelvey, "Convenience is not our No. 1 priority," but rather the top priority is to facilitate "chance encounters" between people that would have never interacted otherwise.  The company does things like host on-site happy hours and events several times a week, and has purposely laid out office floors so that workers are more likely to bump into each other on their way to the fridge or a meeting. [4]  Expands Andrea Foertsch, a commercial real estate development advisor: "People are constantly telling me how it's increased their productivity, whom they've met through doing this, and how they changed their business model, how it formed their partnerships. How they'll never go back to working from home. How it's just kept ideas from dying slow deaths." [5]
The fact of the matter is, the online economy can only accomplish so much.  At the end of the day, it is people connecting with other people that make ideas, and companies, happen.  WeWork has built a model that the 21st century employee values, an environment that the rest of corporate America could do well to emulate.  The online economy will continue to change the way our overall economy is structured, and thanks to companies like WeWork that structure will at least have comfortable couches to sit on.
---
Sources
[1] https://www.wework.com/pricing
[2] http://www.nytimes.com/2015/11/03/business/dealbook/wework-said-to-seek-750-million-credit-facility.html
[3] http://fortune.com/2015/03/05/wework-utopian-vision/
[4] ibid
[5] ibid